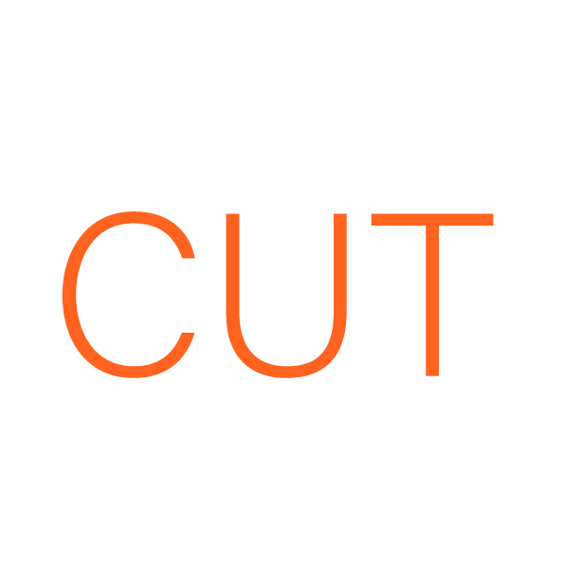 EN
The exhibition nehme nicht teil am marathon presents a selection of new works by Philipp Gentili (b. 2001 in Bolzano/Bozen, Italy) showing the latest developments of his painterly research with both informal and biomorphic shapes. Canvases are presented along works on paper, painted geographical maps and documents of Ministero dei Beni Culturali. In the exhibition nehme nicht teil am marathon Gentili explores different formal and political implications that abstract painting can take, questioning representation and how cancelling can become a mean to act in a subversive way.Philipp Gentili's most recent works are pictorial explorations in which he refuses to strive to represent forms from known reality. His painting process can start from automatic drawing, a method explored in surrealism in which the artist suppresses conscious control over the making process. Parts of the shapes Gentili draws on sketchbooks are reproduced on the painting support, while other ones are created directly on the canvas without any previous study. Here they coexist together with controlled and graphic application of colour, with techniques used in graffiti like "dripping" or the sfumato technique. Since his paintings are produced on multiple times, the resulting forms interact through different layers by accumulating on the painting's surface and merging together. The process of conneting shapes or make them clash on top of another leadsto generate what the artist refers as "biomorphic shapes". All constituted by paint itself, therefore not restricted into outlines. This organically developed potential forms take distance from the retinal and conceptual meaning attributions that contempoary painting can take. Rather they are one part of multiple approaches in exploring painting's possibilities that permeate Gentili's art. In the series Ministero dei Beni Culturali, we are instead confronted with the act of cancelling official unfilled forms used to catalogue works of cultural relevance. Abstract prints on paper and collages interact with the support, in an act that subverts their original function of collecting data. Similarly, geographical maps of the United States of America present black abstract shapes painted on top of them to disrupt the geometrical definition of each state. At the center of the exhibition space, we find a large canvas titled UNTITLED, a site-specific work realised directly in the gallery space.Following the steps of Cy Twombly and Arshile Gorky, Philipp Gentili keeps on investigating the very nature of abstract painting, showing how non-figurative shapes can at one side result in a personal elaboration on a yet to define and potential subject matter and at the other, constitutea conceptual operation, where the act of painting becomes an act of cancelling. In nehme nicht teil am marathon Gentili questions the order and patterns of the contemporary world by firmly distancing himself from what is already-known, embracing the yet-to-become and unfinished as a necessary condition to remain open towards what lies beyond.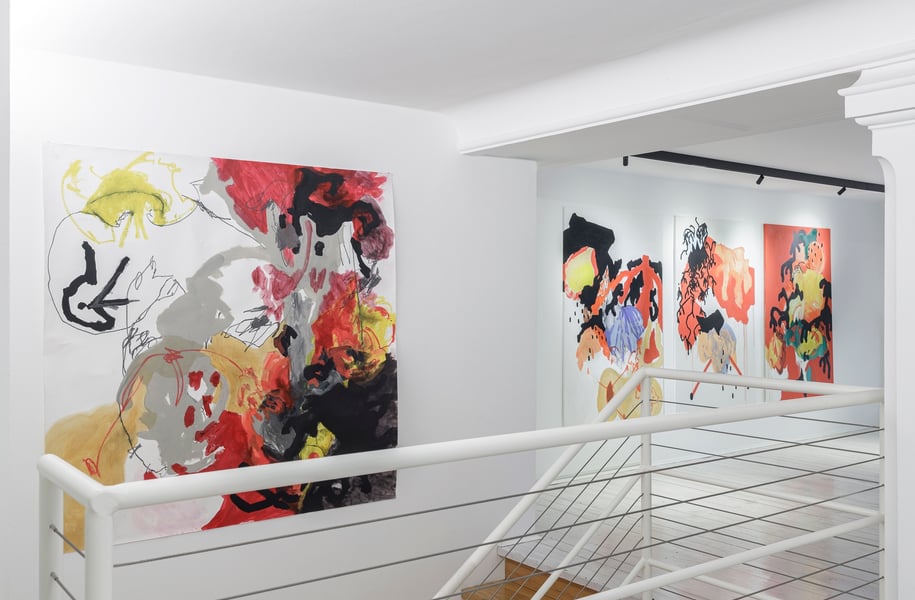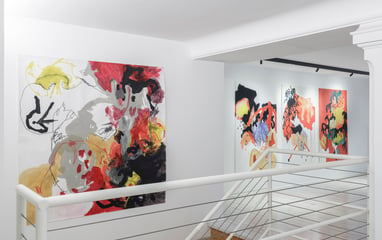 Philipp Gentili, nehme nicht teil am marathon. Installation view. Photo: Tiberio Sorvillo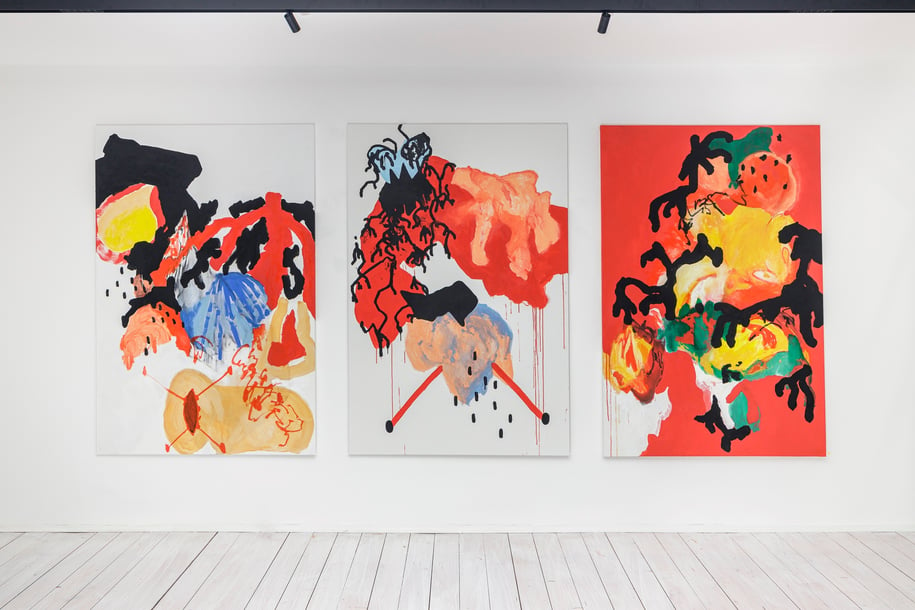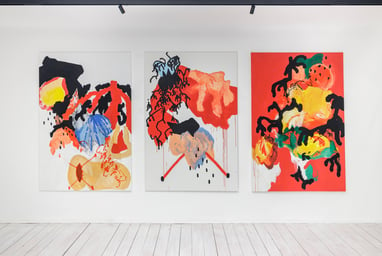 Philipp Gentili, Untitled #1,#2,#3. Photo: Tiberio Sorvillo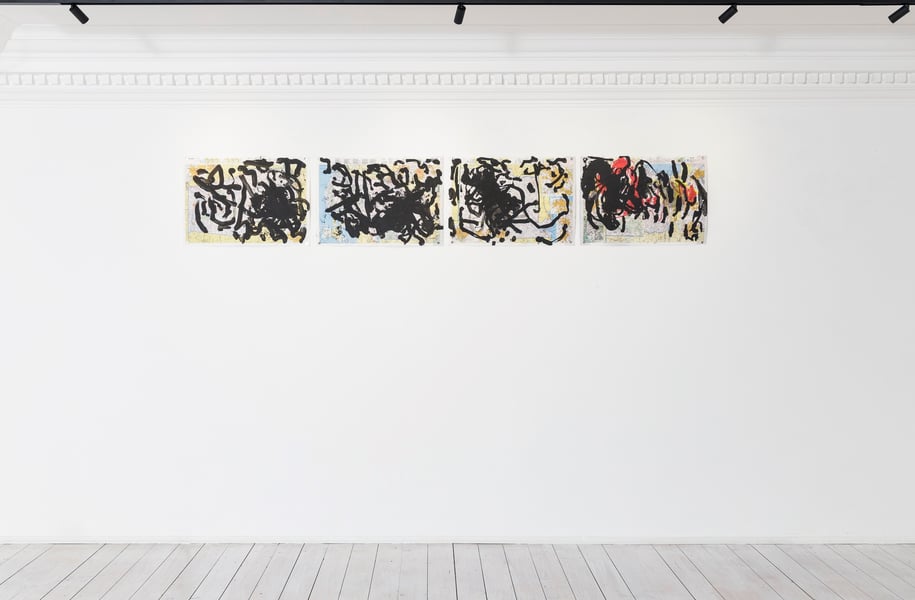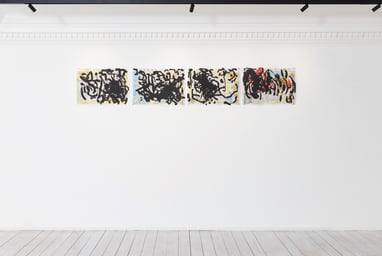 Philipp Gentili, USA Atlante Stradale #1,#2,#3,#4, 2022. Photo: Tiberio Sorvillo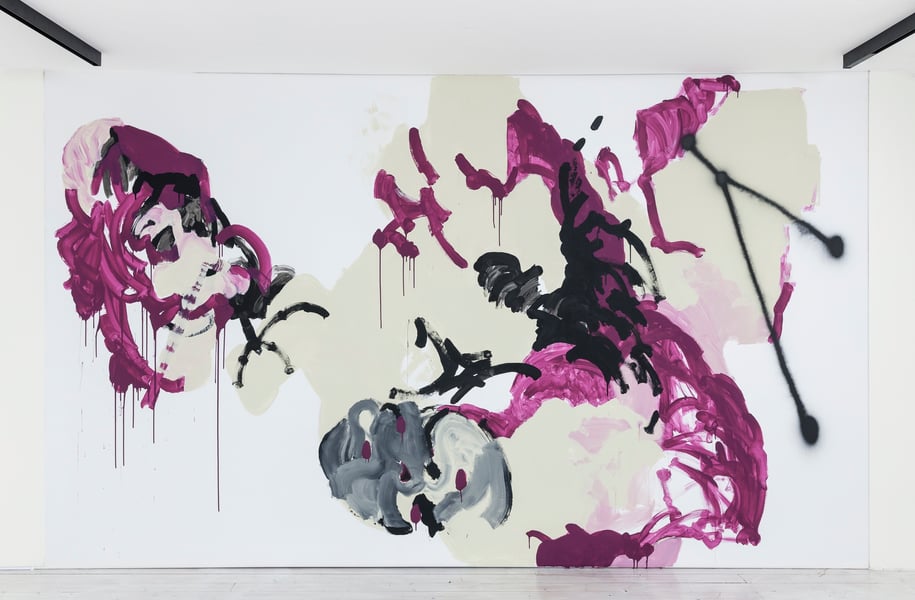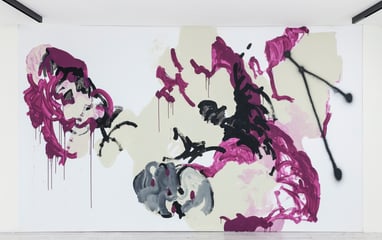 Philipp Gentili, UNTITLED, 2022. Photo: Tiberio Sorvillo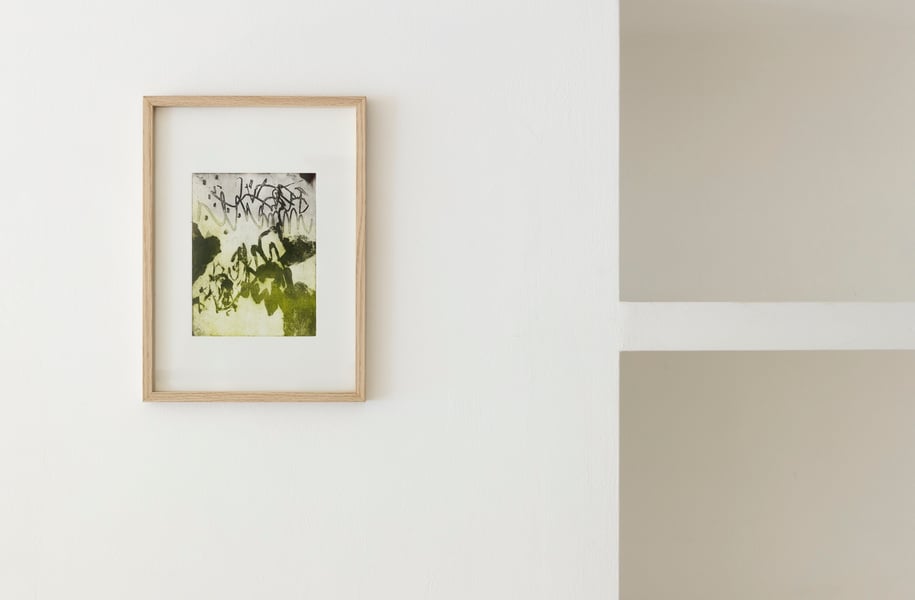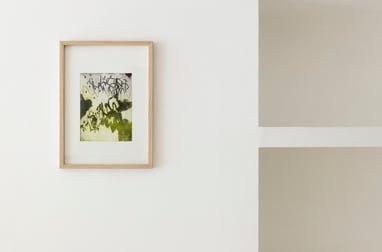 Philipp Gentili, Fertig Machen, 2022. Photo: Tiberio Sorvillo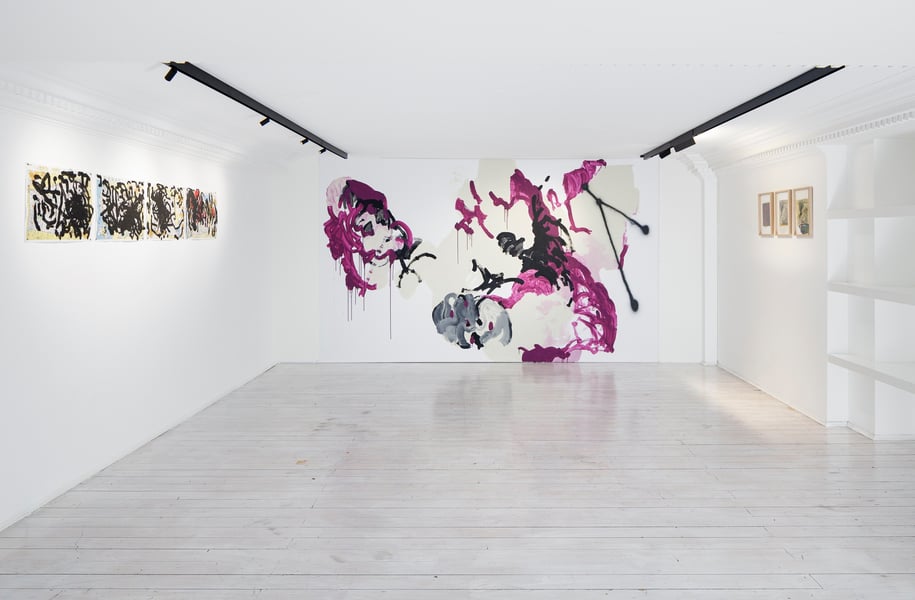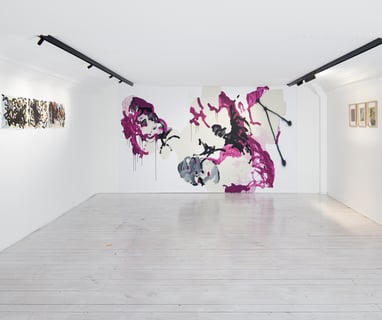 Philipp Gentili, nehme nicht teil am marathon. Installation view. Photo: Tiberio Sorvillo
Scrivi il tuo testo qui...
Nella sua prima personale in Italia, l'artista Sarah Kürten (nata a Bergisch-Gladbach nel 1983) presenta una serie di nuovi lavori che sviluppano ulteriormente la sua ricerca sulla politica del corpo nei contesti mediatici, abbinando collage e testo. Nei grandi collage dal titolo 'Rose (may the world be translated into simple stories about individuals)' e 'Tess (All that is moonshine, and all that cannot, by conscious action do anything about it)' , ci troviamo di fronte alla rievocazione di immagini scattate da donne nell'atto di presentare abiti usati su piattaforme di rivendita online. Questi autoritratti anonimi scattati in ambienti domestici sono de-costruiti e ricreati attraverso la sovrapposizione di ritagli di carta colorata e ricoperti da una pellicola trasparente stampata, che aggiunge struttura e profondità all'immagine trasformata in collage. Accanto e sovrapposte alle immagini, sono stampate poesie scritte dall'artista stessa, che conferiscono uno spazio "performativo" alla fotografia trasformata. I materiali dell'immagine di Kürten diventano fotogrammi di una narrazione non-lineare che si sviluppa leggendo le poesie insieme alle fotografie. Le immagini appropriate appaiono ora storicizzate dalla loro traduzione materiale in collage, ricordando la grafica dei manifesti degli anni '70 e definendo l'oggetto di indagine del gruppo di opere. Nella mostra, Sarah Kürten ricontestualizza ritratti di donne per indagare i processi comportamentali e cognitivi della mente di chi guarda, inducendoci a interrogarci su come questi corpi siano percepiti nei diversi contesti della loro mediazione. Descrivendo scene lontane, ma improvvisamente molto vicine attraverso la tecnica del flusso di coscienza, l'artista ci offre la possibilità di esperire la sua linea di pensiero, suggerendo l'importanza di un'interrogazione critica del nostro sguardo. Lo stesso tema è stato esplorato in precedenti collage e testi creati a partire dalle immagini di Twen; una rivista popolare tedesca pubblicata tra il 1959 e il 1971, che all'epoca ha plasmato la formazione della gioventù del dopoguerra. La serie è stata esposta nella sua ultima mostra personale 'under the illusion of a structureless splendor' a Düsseldorf nel 2020. Accanto alle opere 'Tess' e 'Rose', la mostra presenta una serie di stampe Risograph prodotte dall'artista durante una residenza alla BASIS Vinschgau Venosta nel settembre 2022. L'opera, dal titolo 'I have no change (And I am not sure, indeed, whether it is true to say)' , è composta da sei stampe che presentano ciascuna il titolo fuori parentesi stampato sopra un'illustrazione di Copicat, la prima unità di delay a nastro disponibile in commercio prodotta nel 1958, su uno sfondo di colore diverso. Se da un lato la frase ripetuta significa non avere denaro da offrire, nel contesto delle nuove opere in mostra, si riferisce anche a non avere vestiti in più da indossare e alla possibilità di cambiare il nostro sguardo senza che la storia trapeli nella nostra percezione attuale del corpo. In occasione della mostra, viene presentata un'edizione limitata di cartoline, in cui viene ulteriormente esplorata la relazione tra le immagini raccolte dalle piattaforme di rivendita online e testo. Per tutta la durata della mostra, una nuova opera site-specific intitolata 'A Poem (splendid inhabitants of a splendid world, but...)' sarà installata sulla facciata di BASIS a Silandro. La poesia tematizza l'autonomia intellettuale dell'arte dal sistema economico e mira a creare consapevolezza sull'importanza delle istituzioni locali che consentono e sostengono la produzione di cultura. Testo: M.P.